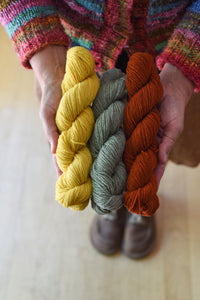 We have been doing some sorting and cleaning at our BWC Headquarters and we came across a bin of Wisconsin Woolen Spun Fingering Weight MINI-Skeins that are leftover miscellaneous skeins from various kits! We thought you might be interested in taking them off of our hands.

We have three colorways to offer you today, Hazelnut (a deep heathered pumpkin), Daffodil (a sunny gold), and Bay Leaf (a soft heathered gray-green). Each skein is 1 oz. or about 30 grams give or take and about 113 yards apiece. 
You could use these cute skeins for socks, hats, toys, colorwork, mittens, etc. It's also a fantastic way to try out our Wisconsin spun and hand-dyed yarn if you haven't yet. You'll fall in love.
These skeins will not be tagged.